Maximalist Jewelry Trends in 2021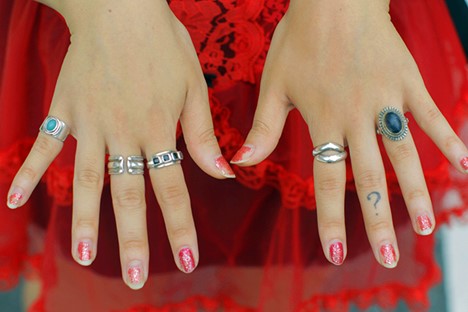 Reading Time: 6 minutes
Maximalism isn't a new word. In fact, it has been popular for centuries now.
Amidst the minimalist trend screaming "less is more", many brands are now starting to introduce elements of maximalism into their new collections to exude more decadence and extravagance to their products.
Maximalism is mainly about color collision, patterns and shapes, repetition, variety, and rich imagination. It also oozes "order in chaos" and it maximizes the use of fun, bold elements to catch people's eyes and make a unique fashion statement.
keen-geek.com
There are tons of maximalist jewelry styles, but today, let's gear our focus towards maximalist rings and how to style them.
Combining maximalist statement pieces can be more challenging than playing it safe, but it's definitely worth it, especially if you want to be extra creative and unique with your self-expression.
Here are some great styles you can follow as you embrace the maximalist trend:
1. Go For Pearls 
The Pearl is a classic piece that will never go out of style. Especially when done the maximalist way, it can take glamour to the next level with its oversized luminous white statement. It's easy to feel more confident with this maximalist fashion statement to flaunt. 
PHOTO: Kirstin Sinclair/Getty Images.
2. You Can't Go Wrong With Stackable Stones
Talk about stones in different sizes, shapes, and colors. Go bolder by stacking them gorgeously and end up making a statement-making display that will spruce up any outfit big time.
PHOTO: Christian Vierig/Getty Images.
3. Sleek Statements
Yes, you can still go sleek in a maximalist way. Just choose some thick and misshapen bands to achieve that brassy, badass vibe that will jazz up your personal style.
PHOTO: Vanni Bassetti/Getty Images.
4. Silver and Gold Shapes
If you want something maximalist but not that overpowering, going for silver or gold shapes can work wonders. Just choose one type of metal like gold and have your jewelry rings in different shapes. Triangles or points add beautiful angles that give off that maximalist flare. This shaped maximalist look is glamorous and can easily go with any outfit you wish to put on.
PHOTO: Edward Berthelot/Getty Images.
5. Colored Spheres
Colored spheres will always have a place in maximalist jewelry hearts because they go with many different outfits. The curves of a sphere ring highlight the flowing motion of our modern lifestyle and seamlessly blend with any style. These colored spheres are also part of our maximalist self defense ring collection that can be found at Maximalist Self Defense Rings
6. Go Angular
Instead of going for the usual circular rings, embrace the angular style and get ready to look fashionable and intricate almost instantly. This is perfect if you're going for a timeless look that can potentially be casual yet still stands out in a crowd. Angular jewelry rings create a maximalist look without the typical oversized dimensions.
PHOTO: Vanni Bassetti/Getty Images.
7. Show Off Some Structured Switch-Up
This maximalist jewelry style shows off a geometrically dynamic vibe that is a definite head-turner. You can keep the rings achromatic. However, try to vary the band shapes and sizes. It's simply a standout style for the bold and brave.
PHOTO: Onnie A Koski/Getty Images.
8. Just Mix and Match
When it comes to the maximalist jewelry style, it's not always about the size of the rings but the message behind the jewelry. You can make a "loud" maximalist statement without the bulky dimensions.
The sky is the limit, so you basically can try anything as long as the combination is non-obtrusive and orderly. You can go ultra-creative and express your style all your way.  
PHOTO: Jeremy Moeller/Getty Images.
 

9. Delicate Details
It's almost like a marriage of the minimalist and maximalist style. Bands are naturally maximalist, but when you mix band styles and strive to lean towards the simpler vibe, the result easily becomes an easy-to-wear piece that still spells creativity in a nutshell.
PHOTO: Georgie Hunter/Getty Images.
10. Dainty Differences
You can play with contrast while still aiming for a dainty, feminine look. This is an interesting style that just impeccably captures the simple kind of maximalism that any personality can pull off. 
PHOTO: Timur Emek/Getty Images.
11. Beautiful Bands
You don't need stones to stand out. Even when you go for pure bands, you can still stand out in a subtle yet provocative way. It's just all about striking the right balance and making sure that everything comes together like they're a combo destined to be displayed.
12. Wear Some Gem Stones
Wearing gem stones is said to nurture positive, healing energies and acts as a cleaning agent for the wearer. Besides that, it actually can be a great style that any maximalist can appreciate. It easily lights up your look and can also easily be paired with any outfit.
etsy.com
13. Try Shell Rings
Shells are a part of the trendiest maximalist style in terms of jewelry and fashion, and it's a unique addition to your wardrobe as well. It is a flexible accessory and a standout style all in one. 
There definitely are more styles to choose from. Just try assembling the right pieces for you to mix and match whenever you decide to get extra imaginative.
Bonus Tips for Buying/Styling Maximalist Rings
When it comes to wearing stackable rings, you're basically playing with numbers game. A maximalist ring display may flaunt up to 10 rings at a time, and it's not practical to spend hundreds of dollars per ring, so consider proper budgeting when shopping for each piece.

When styling, be careful and intentional about what you want your focus to be: your jewelry or your clothing. The great things about maximalist jewelry is it can bring even the simplest outfit to life, but if you're already going for bold clothing, it might be a good idea to be more subtle with your chosen jewelry style.

It's best to wear an odd number of rings on one hand and even on the other hand.

The color wheel is your best friend. There's always science behind aesthetics, and when it comes to mixing and matching outfits and accessories, referring to the color wheel can go a long way. You can either go for analogous colors if you want a pop of color or use different shades of the same color to achieve guaranteed cohesion.

Don't be afraid to break the rules. You may read a lot of tips and tricks here and there, but in the end, maximalist fashion is all about you taking charge of your ensemble. It's never about playing it safe, so go for the exact outfit and accessories that can make the best version of you shine.
Maximalist Jewelry Trend Conclusion
We are long past the days of conformity and uniformity. Young kids and adults alike are rightfully praised for being unique individuals and want to express themselves as such. Maximalism is not the way to express yourself, it's simply one way. And it's a great way if it fits your vibe.
Whether you're new to the maximalism trend or not, there's a lot in store for you. It's just about finding the right style that resonates with you and what you stand for. Don't be afraid to stand out and stand up for what you believe in.
---