How To Stay Safe While Shopping Online | Protecting Yourself Virtually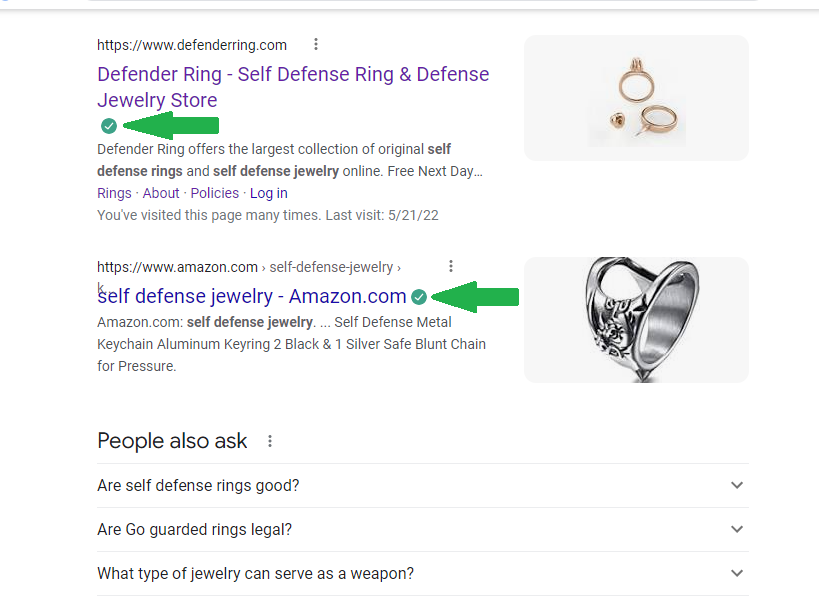 This holiday season, 57% of shoppers in the US plan to purchase gifts for their loved ones online.
That is up from 42% of shoppers from 2015.
As more people become hooked by the ease, convenience, and speed at which they can shop from the comforts of their home, basic precautions should always be observed. Let's jump right in to ways to stay safe while shopping for gifts online.
1. Trusted Site
Trusted Site is an independent company that certifies websites for key issues like security, business integrity, and merchant reliability. Websites that pass these certifications are able to display the Trusted Site badge on their website like this:
2. Google Green Check Mark
When you shop for products on Google, you will receive a list of websites known as "Google Search Engine Results Pages." Only click on websites that have a "green check mark" next to the website name, which indicates they have been scanned and verified by McAfee and are deemed safe. Here's what the green check mark looks like on DefenderRing.com and Amazon.com:
3. PayPal and Other Payment Providers
Making a payment through PayPal is one of the safest ways to purchase a product online. PayPal provides protection to buyers that they can be refunded if there is fraud or if they don't receive their order. PayPal also verifies merchants and holds funds in case they need to refund buyers. Using a credit card or other payment provider is normally fine if the website has been verified and is credible.
Here's the PayPal option that you should look for on the payment page of online businesses:

4. Shipping, Exchange, Return, and Warranty Policies
Online businesses should provide clear information on their shipping, exchange, return, and warranty policies. Information should be clearly disclosed and easy to understand such as:
Processing and handling times (when the product will be shipped)
Shipping method, shipping costs, and approximate shipping times
Product packaging
Exchange costs and timeframe to make exchanges
Exchange instructions
Return costs and timeframe to make returns
Return instructions
Product warranty information
Other warranties or guarantees
If a business does not have this information, then you should be wary about doing business with them. It should be easy to find like the following:
5. About Us Pages
Anyone can start a fraudulent website with no money or experience. What differentiates a legitimate business from a shady website is information about their company. Do they have pages with About Us, Social Mission or Partnerships so that you can learn about their company? These are signs of an established business that you can trust won't go missing overnight. Here are some examples of trusted About Us Pages:

6. Customer Reviews
Businesses that allow customers to post reviews are trustworthy and credible. If the shopping website you're at doesn't allow customer reviews, then it's a sign that they may not be a legitimate business. Here are customer review sections you should look for in online businesses:

7. Social Media Profiles
Most online businesses should have some sort of social presence. Check their social media profiles like Instagram and Pinterest to see if they post pictures, videos, or stories about their products. You can also check their "tagged" section to see if other members are tagging their products like the following:

8. Responsive Customer Support
Businesses that provide responsive support to current customers and new customers are companies that stand behind their products and want to create relationships with their customers. They should easy to find email addresses for you to ask questions or inquire about your order like the following:
Conclusion
There are many ways to confirm if the online business you want to buy from is legitimate. Using any of the tips we shared above will help further verify a business' credibility, and using multiple tips from above will definitely prove that the online business is trustworthy.
In this day and age you can never be too careful with all of the scams and fraud on the internet. Similar to dangerous situations, always go with your gut instinct. If an online business feels fishy, then avoid them. If they feel genuine and present, then you should feel confident purchasing products from them.
---